Quickly and easily give your application a different look? It's possible with 'Themes' and 'Visual Classes'.
Themes are the earlier Templates. These define the default settings for various display properties of objects
in the entire library and are therefore set in the 'library defaults'.
Visual classes relate to a single object. So you have to select them per individual object.
In this example we will only work with buttons, but other objects are also possible.
We take these buttons as an example:
Font:               Arial, 20 points
Foreground:  default
Background: default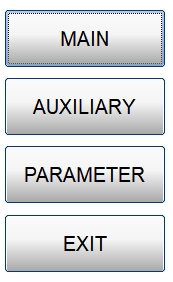 We are now going to create a 'Theme'.
For this we start Nomads and choose in the menu > Options > Themes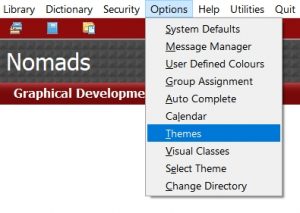 You enter 'T1' and select control type:  Button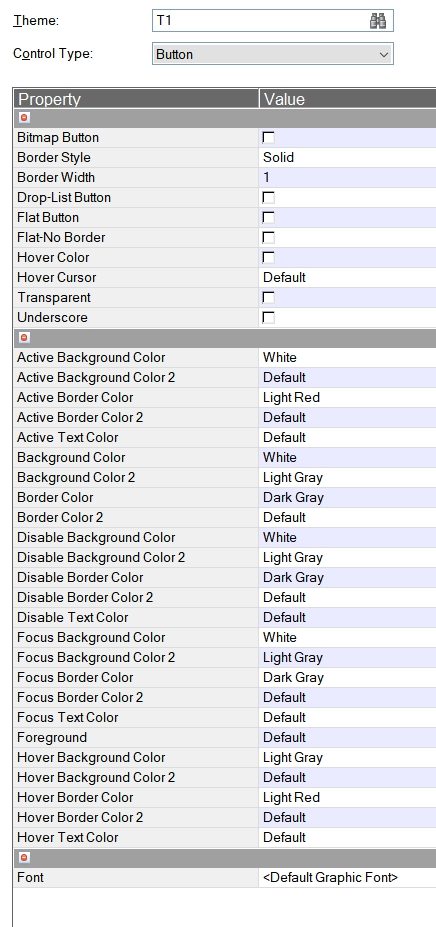 You will see a number of extra options that you normally can't choose for a regular button,
for example 'Hover Border Color'
We want to display a red border around the buttons when the mouse is over a button.
In this example, we have also set colors to other button properties.
We now link Theme 'T1' to our library, through 'Library Defaults'

Then choose the TAB 'Font / Clr' and select T1

If we now start a panel with buttons and we move the mouse over the buttons, then we
immediately see that the buttons have a red border. You will also see a different font size,
different colors and sharper angles. All buttons in all panels of this library now get this look.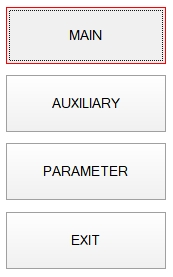 Sometimes however, you want certain buttons to look different. That is when you need 'Visual
Classes'. We return to the main screen, choose menu> Options> Visual Classes
As Class Name, we choose 'BLUE', theme: 'T1', control type: 'Button'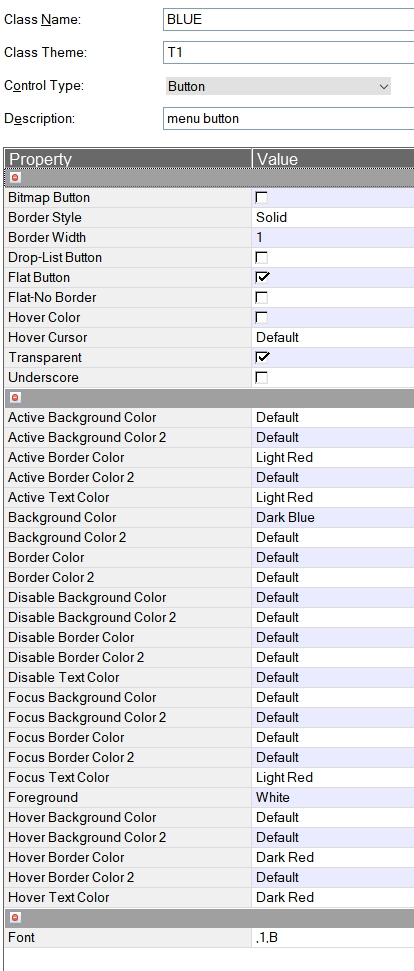 You will see the same properties as with a theme.
We now want a flat, transparent button that is dark blue with red text when it has focus, and a
dark red text when the mouse is over a button.
It may be necessary to try various settings by trial and error in order to achieve the look you are
looking for.
We save these settings and now set this Visual Class 'BLUE' for a button in our panel.
Enter the properties of your button. Select the 'Font / Clr' tab and select Visual Class 'BLUE'.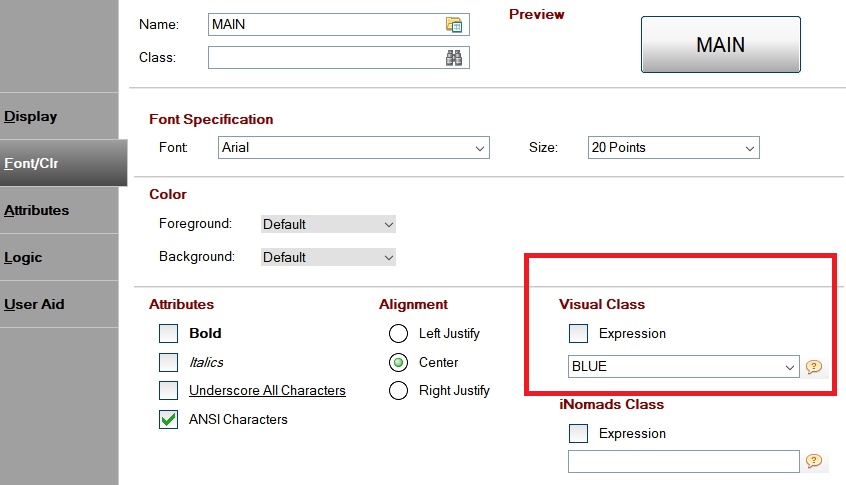 We repeat this for the 'auxiliary' and 'parameter' buttons, but not for 'exit', so we can clearly see
the difference.
Test and/or start the panel: when you position the mouse over the 'parameter' button, this will be
the result: